Bonding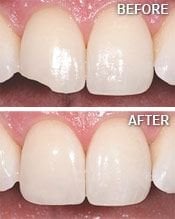 Bonding uses tooth-colored materials to replace missing tooth structure or hide cosmetically unappealing minor defects in a tooth — chips, discoloration, and even minor spacing irregularities. Bonding materials are called "composite resins" because they contain a mixture of plastic and glass, which adds strength and translucency. The composite actually bonds, or becomes one, with the rest of the tooth.
We are proud of the ways in which dentistry can restore broken or decayed teeth to full beauty and function. One of the easiest and least expensive ways of doing this is with dental bonding.
Composite resins come in a variety of tooth shades for truly lifelike results. When bonding is done with a skilled hand and an artistic eye, it may be impossible to distinguish the bonded tooth from its neighbors. Though bonding will not last as long as a dental veneer, it also does not require the involvement of a dental laboratory and, most often, can be done without drilling of the tooth. It's a particularly good solution for teens, who often need to wait until their teeth have finished maturing before choosing a more permanent type of dental restoration.
The Bonding Process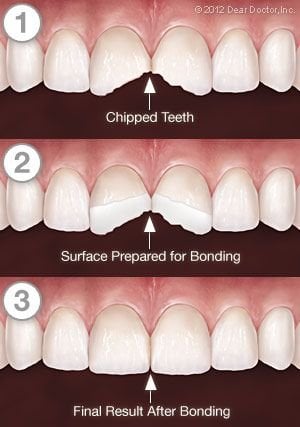 Because it does not involve dental laboratory work, tooth bonding can usually be accomplished in a single visit to the dental office. Expect the whole procedure to take 30 minutes to an hour. First, the surface of the tooth to be bonded will be cleaned so it is plaque-free. The surface will then need to be "etched" with an acidic gel that opens up tiny pores in the surface. After the etching gel is rinsed off, the liquid composite resin in a well-matched shade is painted on in a thin layer, filling these tiny pores to create a strong micromechanical bond. A special curing light is used to harden this bonding material. Once the first layer is cured, another layer is painted on and cured. Layers can continue to be built up until the restoration has the necessary thickness. The bonding material is then shaped using a dental drill to give it just the right form. Once the tooth not only looks great but fits in perfectly with your bite, it will receive a final polishing.
Caring for Bonded Teeth
Bonded teeth should be brushed and flossed daily, and professionally cleaned at the dental office twice per year, just the same as the rest of your teeth. The most important thing to keep in mind about caring for your bonded tooth is that composite resin can absorb stain, just as natural teeth can. Therefore, you will want to avoid smoking, red wine, coffee and tea to the extent possible. Also, while composite can darken, it cannot be lightened. So if you are thinking about having your teeth whitened, it should be done before your tooth is bonded so that a composite shade can be selected to match the lighter color of your whitened teeth. If you whiten your teeth after bonding, the bonded tooth may not match all the rest. Finally, try not to bite your nails, hold writing implements in your mouth, or use your teeth in other ways that could put excessive force on the bonding material and chip it. With proper care, a bonded tooth should stay beautiful for 3 to 10 years.
---
Porcelain Veneers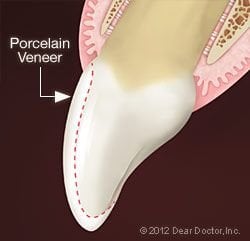 You may already know that a veneer is a thin covering over another surface. In dentistry, a veneer is a wafer-thin layer of super-strong porcelain that convincingly substitutes for natural tooth enamel. When bonded to your teeth, veneers can create a natural-looking, beautiful new surface. That's because dental porcelain, like natural tooth enamel, is translucent and tough. But it doesn't stain like tooth enamel does.
What makes a smile beautiful? That's a complex question, but some qualities of a lovely smile are immediately identifiable: good tooth color, shape and alignment are a few of the most important ones. If your teeth could use improvement in any of these categories, porcelain veneers could be just what you're looking for.
Recent years have brought remarkable advances in dental porcelain technology. These days, veneers can be made so thin that they can sometimes be bonded directly onto your existing tooth surface. In other cases, a very thin layer of tooth enamel — as thin as the veneer itself — needs to be removed to fit the new porcelain surface and make it look as lifelike as possible. Either way, the results are sure to make you smile.
Versatility of Porcelain Veneers
Veneers can be used to improve any of the following characteristics of your teeth: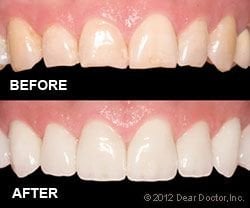 Color — Teeth can become stained by the foods and drinks we like, from smoking, and even normal aging. Veneers are available in numerous shades, from the most natural to the brightest Hollywood white.
Size & Shape — Teeth can become worn down from grinding habits, or may not have the shape or size you want to begin with. For example, some people consider rounder teeth more feminine and squarer teeth more masculine. Veneers can be shaped and sized in whichever way is most flattering to your face.
Alignment & Spacing — Veneers can be used to close small gaps between teeth or make slight corrections in alignment while improving tooth color and shape.
Limitations of Porcelain Veneers
There are some situations in which veneers would be inappropriate. For example, if you have significantly misaligned teeth or a large gap, orthodontics might be a more appropriate solution than veneers. And if you have lost a lot of tooth structure from decay or trauma (or a particularly severe grinding habit), it might be better to restore your teeth with porcelain crowns that cover the entire tooth.
Creating a New Smile with Porcelain Veneers
The first step in creating a new smile with porcelain veneers is to communicate exactly what you don't like about your smile as it is now. It's a great idea to bring in pictures of smiles you do like, as a starting point for discussion. It's possible to see how veneers would look on your teeth in one of several ways. A model of your teeth can be created over which wax "veneers" can be placed; sometimes acrylic (plastic) or tooth-colored filling material can be placed directly onto your teeth to demonstrate the effect veneers would have on them.
Once the plan has been agreed upon, your teeth will be prepared by removing a small amount of enamel, if this step is necessary. Molds of your teeth will be taken and used by a skilled dental laboratory to create your veneers, and you will receive a temporary set of veneers to wear during the few weeks it will take to create your permanent veneers. When the veneers come back from the lab, they will be cemented onto your teeth.
Caring for Your Veneers
Just like the teeth nature gave you, teeth restored with veneers need gentle brushing and flossing every day. This will remove dental plaque and ensure good gum tissue health around the veneers. Regular checkups at the dental office will remain as important as always to your oral and general health. And keep in mind that as tough as veneers are, they may not be able to withstand forces that come from using your teeth as tools (to open packages, for example) or biting into very hard foods like candy apples — which isn't good for your natural teeth, either! And if you grind or clench your teeth at night, you might be advised to get a custom-made nightguard to protect your veneers — and your investment.
---
Teeth Whitening
It's hard to imagine anything more appealing than a sparkling, white smile. Yet our teeth rarely stay as white as we'd like them to without a little help. Fortunately, that help is available at the dental office.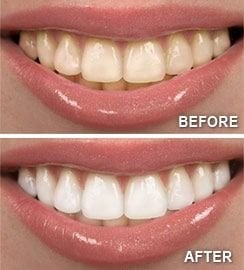 Teeth whitening done in a professional dental setting is a safe, effective way to brighten your smile. It's also perhaps the most economical cosmetic dental procedure.
Professionally supervised whitening will work faster, and protect sensitive gums and tooth-root surfaces better, than over-the-counter whitening products. Having an oral exam before you begin any whitening process is an important first step to make sure your tooth discoloration is not the result of a dental condition in need of treatment. Also, please be aware that it can be risky to have whitening solutions applied to your teeth by untrained personnel in shopping malls. If you have any questions about which whitening method would be best for you, talk to us first.
Professional Whitening Method
Professional whitening makes use of high-concentration bleaching gels that are not available over the counter.
Take-Home Whitening — This is another effective way to whiten your teeth, though you will play a greater role in ensuring the best possible results and several weeks may be needed to achieve your desired level of whiteness. First, a mold of your teeth will be taken and then two thin, flexible plastic mouth trays will be custom-made for you — one for the top teeth and one for the bottom. You will fill the trays with whitening gel and then position the trays over your teeth. The trays are left in usually for about an hour at a time.
Caring for Your Whitened Smile
There are lots of things you can do to make sure your whitening results last as long as possible, and this will vary from person to person (six months to two years or even longer). First of all, please maintain your usual, conscientious routine of brushing and flossing every day, and keep up with your regular schedule of professional cleanings at the dental office. Avoid foods and beverages that stain, including red wine, tea and coffee. If you smoke, use your newly whitened teeth as an impetus to quit — a good idea in any event! A minor touch-up every so often, either at home or at the dental office, can keep your smile bright and beautiful for years.